Music by Marilyn Shrude and Burton Beerman to be performed on the 2015 Bowling Green New Music Festival
Date:
Oct 21 2015 - 7:00pm

to

Oct 24 2015 - 10:00pm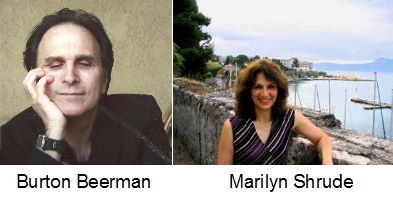 Dates: October 21 - 24, 2015
Times, Locations and Ticket Purchasing Info: Variable; check the festival website for schedule and performance locations
Music by ACA composers Marilyn Shrude and Burton Beerman will be featured on this year's New Music Festival at Bowling Green State University. Dr. Shrude is a Distinguished Artist Professor in Music Composition at BGSU; Dr. Beerman was a longtime faculty member in the school's composition department, and served as the director of the MidAmerican Center for Contemporary Music at BGSU from 1999 - 2007. Beerman's work Quintet will be performed on October 22 at 7:30 pm at Kobacker Hall, while Shrude's piece energy flows nervously...in search of stillness will be presented on Friday, October 23 at 10:30 am at Bryan Recital Hall.
This annual event celebrates the contemporary arts through concerts, panels, art exhibitions, seminars, master classes and papers. Begun in 1980, the festival has hosted John Adams, John Luther Adams, Samuel Adler, Milton Babbitt, William Bolcom, Anthony Braxton, John Cage, Chen Yi, John Corigliano, George Crumb, Mario Davidovsky, Anthony Davis, Philip Glass, John Harbison, Lou Harrison, Karel Husa, Joan La Barbara, David Lang, Paul Lansky, George Lewis, Robert Morris, Pauline Oliveros, Shulamit Ran, Bernard Rands, Terry Riley, Christopher Rouse, Frederic Rzewski, Gunther Schuller, Joseph Schwantner, Bright Sheng, Steven Stucky, Morton Subotnick, Joan Tower, Vladimir Ussachevsky and more than 350 other guest composers and musicians.
This year's featured artists are BGSU alumnus Jennifer Higdon and the Fifth House Ensemble from Chicago, in addition to many other guest composers and performers. The 2015 festival also features guest performances by percussionist Scott Deal and the Assembly Saxophone Quartet.