Brazen Guns and Gentle Doves Saturday, November 8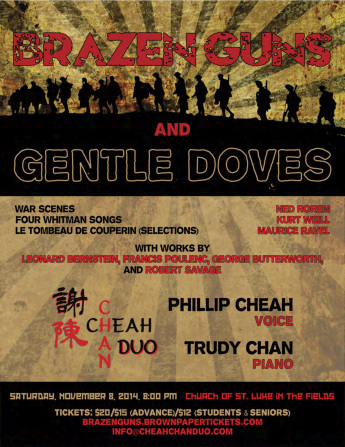 To mark the 100th anniversary of the outbreak of the First World War, The Cheah Chan Duo
, consisting of vocalist Phillip Cheah and pianist Trudy Chan, will be performing a commemorative concert on Saturday, November 8, 2014. The concert will feature music by Ned Rorem, Kurt Weill, Leonard Bernstein and more.
Billed as "musical ruminations on war and peace," the program includes "War Scenes" by Ned Rorem, selections from "Le Tombeau de Couperin" by Maurice Ravel, and works by Leonard Bernstein, Francis Poulenc, George Butterworth, and Robert Savage. The ruminations will be literary as well, featuring the poetry of Walt Whitman, Gerard Manley Hopkins, Guillaume Apollonaire, and Louis Aragon put to music.
Weaving together stirring poetry and music written in response to war, the program includes Ned Rorem's cycle War Scenes, which is set to Walt Whitman's visceral descriptions of the Civil War and dedicated to "those who died in Vietnam, both sides, during the composition." In addition, the program includes Kurt Weill's cycle Four Whitman Songs, selections from the solo piano suite Le tombeau de Couperin by Maurice Ravel, which Ravel dedicated to the memory of friends who died fighting in World War I, as well as works by Leonard Bernstein, George Butterworth, Francis Poulenc. Ending on a hopeful note, the duo concludes the program with Robert Savage's rarely performed setting of Gerard Manley Hopkins' pleading 1918 poem entitled "Peace".
The Cheah Chan Duo is dedicated to presenting curated artsong programs that span a variety of subjects, languages, and time periods. Formed in 2009, the duo has performed at the Church of Saint Luke in the Fields, Tenri Cultural Institute, Cornelia Street Café, and Symphony Space as part of the 2011 Music of Now Marathon. With a passion for new and American music, their concert programs have included a 90th birthday tribute concert to Ned Rorem and an evening devoted to the music of Frank J. Oteri, featuring the world premiere of the song cycle Versions of the Truth, composed expressly for the duo. They have also premiered songs written for the duo by Chris Cresswell, Jonathan David, and Drew Hemenger. www.cheahchanduo.com
Brazen Guns and Gentle Doves
Saturday, November 8, 2014, 8 pm
Church of St. Luke in the Fields
487 Hudson Street, New York, NY 10014
Tickets: $20 / $12 for students and seniors
Advance Tickets: $15 (available on-line)
Email [email protected] for more information.