Works for Contrabass by Allan Blank - new release by Andrew Kohn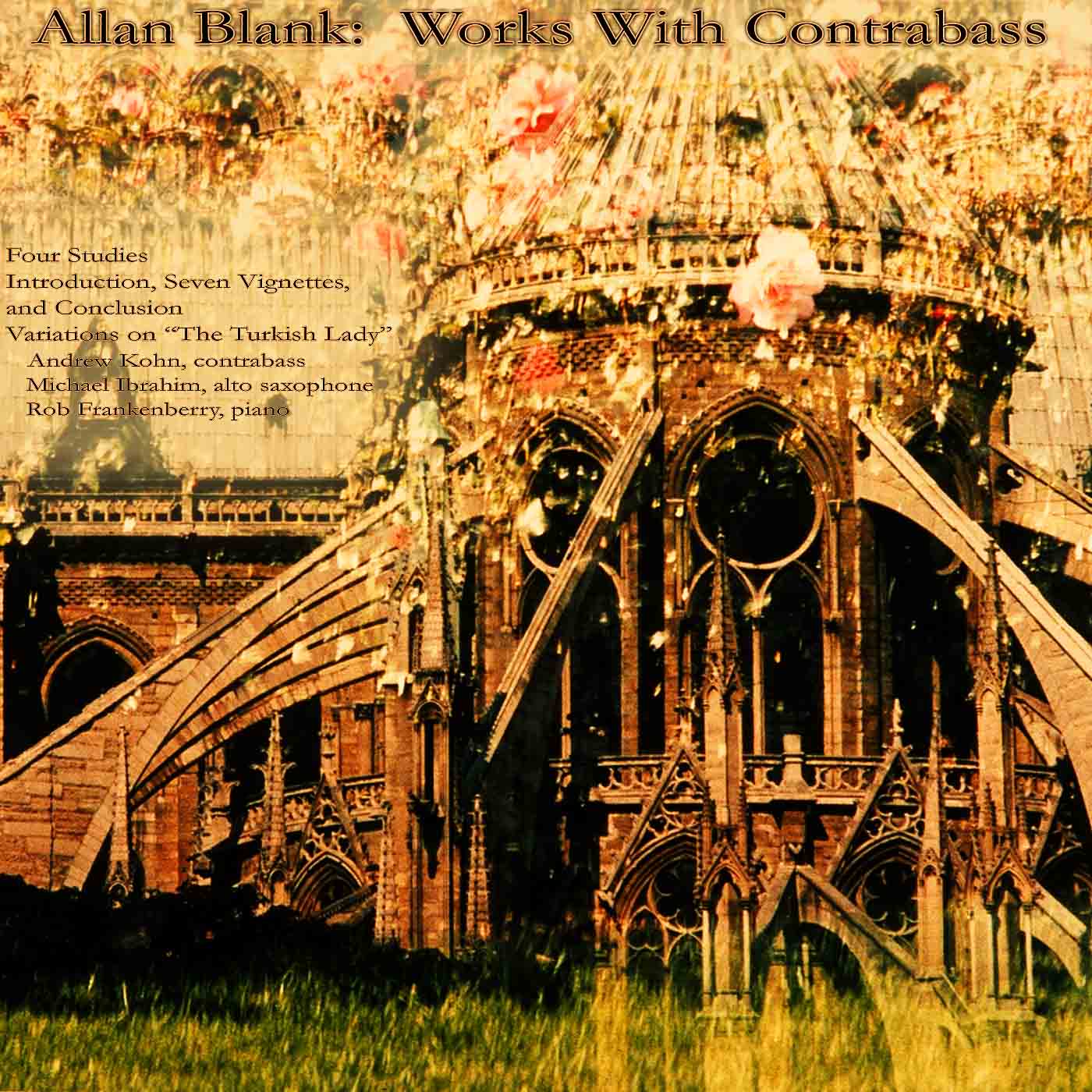 Andrew Kohn has released a new digital album: Works for Contrabass by  Allan Blank.  
Works include Variations on "The Turkish Lady," performed by Kohn and pianist Rob Frankenberry. For this work, composer Allan Blank, then living in Virginia, chose a musical theme that is also from Virginia: "The Turkish Lady" is one of the names given in Virginia to an old English ballad which, in the seminal work of ballad scholar Francis James Child, is identified as "Young Beichan".  The digital recording includes thoughtful program notes on the pieces.
Introduction, Seven Vignettes, and Conclusion for alto saxophone and contrabass, performed here by Kohn and Michael Ibrahim, proposes highly contrasted moods within a consistent constructivist technique. The radically different techniques and characters of the two instruments are taken as a challenge to be overcome by both the composer and then the performers.
Andrew Kohn teaches contrabass and music theory at West Virginia University. He holds an Artist Diploma from the Peabody Conserva¬tory, where he studied contrabass with Eugene Levinson, and a Ph.D in music theory and composition from the University of Pittsburgh, where he studied with Eric Moe and Pablo Ortiz. The former principal bassist of the National Chamber Orchestra (now called the National Philharmonic) and the Harrisburg Symphony Orchestra, he currently plays in the Pittsburgh Ballet Theatre and Opera orchestras. He has performed and adjudicated at international conventions of the International Society of Bassists and the Third International Bass Festival (Wroclaw, Poland) and has published extensively in the areas of music theory and of contrabass repertoire and pedagogy.

Michael Ibrahim, Assistant Professor of Saxophone at West Virginia University, enjoys an active career of solo, chamber, and orchestral work in both contemporary and traditional realms.
Allan Blank (1925-2013) began his musical life as a violinist in the Bronx. He attended the High School of Music & Art, where an interest in conducting and composition was fostered. Further studies were at the Juilliard School of Music, New York University, the Univer¬sity of Minnesota, and the University of Iowa. He was a violinist with the Pittsburgh Symphony Orchestra (1950-1952) and has taught a number of schools and universities. He was Professor Emeritus of Composition at Virginia Commonwealth University (where he taught 1978-1996). Many of his more than three hundred compositions have been published, and a number have been recorded: on CRI, Orion, Advance, Albany, Open Loop, Centaur, Contemporary Society, Titanic, Pro Viva, and North/South.